June Is Men's Month - Get Your Free Omega 3 Fish Oil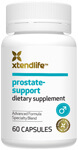 June 2016 is Men's Month at the 'Xtend-Life' Supplement Company and to support 'Men's Health', they are offering a free bottle of Omega 3 /DHA Fish Oil with every purchase of their specialist supplement: 'Prostate Support'.
Many men are embarrassed talking about their prostate or PROSTATE CANCER, including with their doctor. Therefore, early detection is unlikely because, by the time men experience any symptoms, the cancer has usually reached an advanced stage or spread outside the prostate gland.
Prevalence Of Prostate Cancer
The incidence of developing Prostate Cancer increases rapidly after age 40
Two-thirds of all diagnosed prostate cancers are in men over 65
1 in 8 men will be inflicted in their lifetime
Enlarged Prostate
It all begins with an enlarged prostate (BPH) which almost all men will develop as they age. Annual screening is recommended to start by age 50.
An enlarged prostate and Prostate Cancer have similar symptoms so that's why you need to test.
For those of you who are already suffering from the unpleasant effects of an enlarged prostate you need to TAKE ACTION NOW. These symptoms, however, are just the tip of the iceberg!
Although, many men with BHP may experience mild or no symptoms, untreated BHP can progress to a potentially life-threatening scenario – liver failure. So, the quicker you seek treatment the better.
Treatment choices are natural substances, (plants/herbs) or drugs. As a natural substance advocate, I advise sufferers to STAY AWAY FROM DRUGS. All BHP drugs have nasty potential side effects whereas side effects from natural substances are very rare and mild.
Your Superstar Prostate Healers
A natural approach to treating BHP relies on key prostate herbals: Saw Palmetto and Stinging Nettle.
These superstar ingredients address the root cause of BHP by working at shrinking your prostate while helping to reduce symptoms, something that drugs can't do! They have over 200 years of documented use in restoring prostate health.
Saw Palmetto has over 100 clinical studies - the most documented benefits of all natural BHP treatment choices.
Xtend-Life's 'Prostate Support' naturally contains these 2 superstar herbals. The tablets have a unique, natural coating which protects the valuable ingredients from damage due to contact with stomach acids and this in turn allows for greater and faster bioavailability than 'normal' tablets.
Omega 3 – Potent Prostate Protection
Omega 3 has been shown in many studies to reduce the risk of Prostate Cancer! Studies show that Japan, for example, has the lowest rate of prostate cancer in the world (3 times lower than in the U.S) and this is linked to its diet high in fish. Japanese men, therefore, have high intakes of Omega 3.
Get Your Free Omega 3
Use the link below to access the Prostate Support/Free Omega 3 promotion page on the Xtend-Life website.
Prostate Support/Free Omega 3 Promotion Page
To Great Health Guys
Continue reading "June Is Men's Month - Get Your Free Omega 3 Fish Oil"