Benefits Of Olive Leaf Extract
A Truly Unique Medicinal Herb
The benefits of olive leaf extract have been well known in Mediterranean and Middle Eastern countries for centuries.
This natural medicinal herb is extracted from the actual leaf of the olive tree, although there are also (lesser) benefits from using olive oil as well as olive oil and leaf extract combinations.
The health benefits of olive leaf extract include:
Protecting the body from viruses, bacteria or retroviruses


Treating existing viruses including herpes and shingles


Possible Anti HIV activity


Improving circulation


Curing colds, flues and pneumonias


Aiding as a diuretic and digestive aid


Prevents intestinal muscle spasms


Used in ear,urinary, dental and surgical infection prevention and elimination


Decreases the effects of Chronic Fatigue Syndrome by increasing energy and overall well being
Several research studies have recorded and reported on the effectiveness of olive leaf extract in several different clinical trials.
The New York University School of Medicine has completed definitive tests that show that OLE (olive leaf extract) is able to change the pathways of HIV type infections and may even reverse these conditions.

The University of Durban-Westville in South Africa has concluded that one of the benefits of olive leaf extract is that it decreases hypertension especially in cases where the condition is related to salt-sensitivity.

Research has also been done regarding the antioxidant benefits of olive leaf extract and show that it possesses extremely high anti-oxidative qualities (1). Not only does this herb serve to remove free radicals from the system but it also helps to add protective qualities for the heart and circulatory system.

Through eliminating free radicals in the system olive leaf extract also helps reduce the productions of micro-toxins in the body that can eliminate many of the colds, flues and other respiratory issues that are problematic around the world.

Female specific benefits of olive leaf extract extend to eliminating yeast and other vaginal infections as well as helping reduce the symptoms of PMS and migraine headaches.


How Does This Unique Herb Work?
Olive leaf contains a series of phytochemicals known as secoiridoids. The most important of these - and the major active ingredient in olive leaf is Oleuropein, which in itself is comprised of 95 different compounds.

When Oleuropein is extracted out of olive leaves, along with the other phytochemicals, it works as a very wide spectrum natural antibiotic.

Studies have shown that this active ingredient is responsible for the numerous health benefits of olive leaf extract. It has been determined to be part of the olive tree's powerful disease resistant structure.

Oleuropein is a powerful antioxidant which boosts the immune system, allowing the body to destroy free radicals and harmful viruses, bacteria and other potentially dangerous cells.

The benefits of olive leaf extract to the immune system are well documented - it is very well known as a non-toxic, potent immunity enhancer.

Although it's individual medicinal properties are highly beneficial, if combined with a wide range of other powerful anti oxidants and medicinal herbs the results will be far more effective.

So unless you wish to treat a specific condition (short-term), olive leaf extract should be taken as part of a multi nutrient supplement aimed at strengthening all organs and systems in your body (particularly your immune system), while providing anti aging benefits and a host of other wellness benefits.


Precautions And Side Effects
This extraordinary herb is very safe to use. There have been not been any reports of adverse reactions or other side effects, except that a few people experience moderate headaches. This is due to a detoxification effect and is not a counteraction to the herb. Few human studies with olive leaf are available.

No known studies have been conducted on pregnant or nursing mothers. Therefore if you are pregnant or nursing the best recommendation is to not take this or any other herbal extracts without medical advice.

There are no known studies of interactions between olive leaf extract and pharmaceuticals drugs.
The disease resistant benefits of olive leaf extract are strong and so it "should not be taken along with antibiotics, additional amino acids or any other mold or fungus derivatives.

It is not that they will do you harm, rather Olive leaf extract will see those things as invaders and kill them canceling the positive effect of the extract, instead of working on what's important, healing you". (2)


What To Look For In A Multi Ingredient Health Supplement Containing Olive Leaf 
There are some olive leaf extracts available that work really well and others that do not! 

Beware of low quality olive leaf extracts listing the active ingredient as'Calcium Elenolate'. Olive leaf does NOT contain 'Calcium Elenolate' (which is synthesized in a lab).

Feel confident about choosing supplements by understanding how they are made.
To guarantee absolute safety, purity, and potency all raw materials must be sourced from GMP registered and audited facilities. All ingredients must have a Certificate of Analysis (COA) on file confirming their purity and potency. 

The supplement company must test all raw materials prior to manufacture for compliance with certificates of analysis and for microbiological contamination. This ensures your safety 

To further ensure the highest levels of safety and that ingredient amounts are in accordance with label claims, check that the manufacturer's equipment, raw material sourcing protocols and mixing and blending processes are GMP compliant to a pharmaceutical level rather then the regulated (and less exacting)  'food' cGMP standard.

Only a handful of supplement companies achieve this standard with their manufacturing! While this level is not necessary under FDA GMP regulations for the manufacture of dietary supplements, the companies that go the extra mile to achieve pharmaceutical level  with these key parts of the manufacturing cycle, are absolutely worthy of your attention when considering which supplement brand to use. 

Further crucial information which you want to see on a supplement company's website is that, prior to releasing each batch of product, a further microbiological analysis is carried out along with a heavy metal analysis. 
Be sure the product contains NO ARTIFICIAL:

Colors


Flavors


Preservatives


Fillers


Binders
Nor potential allergenic substances - such as diary or gluten.

The product should come with a 100% unconditional money back guarantee - and no crazy conditions to use it. The manufacturers of elite/premium grade supplements must be prepared to stand by their product. If there's not a no risk, 100% money back guarantee then let that raise a BIG RED FLAG for you!


The Health Supplement I use and Recommend
'Total Balance' from the Xtend-Life company located in New Zealand lies at the core of my supplement and anti-aging regime. I have used Total Balance (Men's Premium version) continuously since 2000.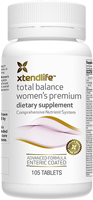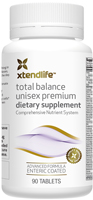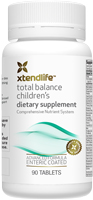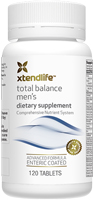 There are 7 different versions within the 'Total Balance' range.

Total Balance is best described as a specialty health supplement for very health conscious people who want superior nutritional support to protect the health of their DNA, normalize their aging process and avoid 21st century influenced (and preventable) degenerative diseases.

This elite Multi Nutrient Health Supplement meets every one of the criteria listed above and a heck of a lot more.

Highly sophisticated supplements such as Total Balance are genuine super supplements and are manufactured using the most advanced technology and delivery systems, along with the most up to date nutritional science.

In additional to olive leaf, the Total Balance Women's Premium formula contains 17 other standardized medicinal herbal extracts while the Men's Premium formula contains 14. In all the supplement comparisons and reviews I've done I'm yet to come across another elite grade multi nutrient health/vitamin supplement that can match this.

But Total Balance should not be thought of as just a herbal supplement - it's far more!
The Total Balance versions (Standard and Premium) contain between them a whopping 79 - 99 ingredients!
which target your body's organs and systems, including your brain and skin, to support and help optimize overall wellness by slowing and normalizing your aging process, helping to balance hormones, supporting healthy DNA (and offering advanced disease prevention for many of those using it).

Due to strict FDA regulations regarding product claims, supplement companies may not claim that their supplements can cure, treat or prevent any disease. So,you always see the word "may" as in "may assist......." or words to that effect.

The synergistic effect of effective nutrients which are known to enhance overall health is what ultimately helps achieve all these awesome life extending health benefits. This is extremely important to those of us who want to enjoy our twilight years in the future without needing to take a handful of pharmaceutical drugs each morning to help stay alive from chronic disease like heart disease, diabetes, cancer and so on.

The Total Balance formula contains key ingredients from all nutrient categories.....
Methylation Agents


Anti-Glycation Agents


Adaptogens


Calorie Restriction Mimetics


Antioxidants


Amino Acids


Enzymes


Neuronutrients


Flavanoids


Carotenoids


Trace Elements


Vitamins


Minerals


Herbal Extracts


Co-factors
Total Balance is the ONLY health / vitamin supplement I trust to support and protect my health and that of my family.

Having worked in the nutritional supplement industry, I understand the science behind supplements and the factors which separate the absolute best multi ingredient natural health formulas from all the other the so-called elite brands.

Since I began with Total Balance Mens in 2000, I haven't been sick for one day - no colds, virus, bugs - nothing!. The immunity strengthening properties of the Total Balance formula have been the most rewarding for me.

So, if you would like to discover more about this sophisticated health supplement just use this link Total Balance Range

Or you may like to jump over and take a look at my supplement comparisons charts and reviews.

If you study (or even just scan) the comparisons you'll understand how and why Total Balance sits in a class of its own.

So, my last word on the benefits of olive leaf is that it is an extremely safe, unique and valuable broad spectrum medicinal herb for strengthening the immune system and providing anti bacterial and anti-viral effects.

It should always be included in nutritionally complete, science-based supplements aimed at NORMALIZING PREMATURE AGING, FULL BODY PROTECTION AND OVERALL WELLNESS!


SOURCES:

Phytochemistry Vol.31, No.4, 1992. 1173-1178


Healthy Christian Living website
Benefits Olive Leaf
Nutritional Supplement Truths!
Tons of Tips for Terrific Health

Healthy         Happy         Energized         Disease Free