THE GOLDEN Health Benefits Of Turmeric
One Of The Most Versatile And Beneficial Medicinal Herbs!
Updated: May 27, 2019
Turmeric is far more than the traditional Indian spice which gives curries their vibrant golden color. It is recognized, not only as a food additive, but also as a medicine with health benefits dating back to ancient times. This combination has earned turmeric the nickname - The "Spice of Life".₁
Turmeric has a long history of medicinal use in Indian Ayurvedic medicine, which stretches back 4500 years (2500 BCE) as well as in traditional Chinese medicine. There are over 100 different terms for 'turmeric' in Ayurvedic literature, such as jayanti, which translates to "one who is victorious over diseases,". In Indian culture, such is the importance of turmeric that it transcends medicine and is considered auspicious and sacred within the Hindi religion.
Over the years, clinical studies have extensively looked at turmeric's potential healing properties and over 2000 published studies currently underlie its well-deserved reputation as a potent medicinal herb.
Turmeric Root Rich in Anti-Inflammatory Curcuma
Of all the medicinal herbs I've researched and written about, turmeric has always generated the most interest. This 'benefits of turmeric' page has consistently ranked in the top handful of pages on this site since 2006! 
Turmeric's star has continued its sustained rise in recent years, easily earning it the 'nutritional superfood of 2019' title. The abundance of consistently positive research, from both the east and west, establishing its celebrated multi-spectrum medicinal activity, clearly proves, however, that it is far from just another passing health fad or the latest 'in-vogue' health ingredient having a moment!
Turmeric's traditional health benefits center around its multi-faceted anti-inflammatory and cleansing properties, however evidence from modern science also links it to substantially more. Read on to discover the numerous ways you can integrate this amazing spice into your daily health regime.
Mayo Clinic Dietician Weighs In on the Health Benefits of Turmeric
Does your pantry include that ancient root spice known as turmeric? In not, you may be missing out on some amazing health benefits. Mayo Clinic dietitian, Anya Guy, recently talked about some of those benefits.

Turmeric is a relative of the ginger family (Zingiberaceae). The botanical (scientific) name of the turmeric plant is
Curcuma longa.
Turmeric is a 'storehouse' of bioactive compounds with the most notable group, for health-promoting properties, being the
'curcuminoid' compounds:
curcumin, desmethoxycurcumin and bisesmethoxycurcumin.
Curcumin is the principal composition and is thus considered the principle bioactive compound in turmeric.
Curcumin has been most studied for its significant anti-inflammatory activity in the human body (which is said to rival that of ibuprofen).
The most effective part of the turmeric plant for use in herbal supplements and medical preparations is its below-ground roots (rhizomes). Stems or roots found underground are called rhizomes.
Rhizomes, which produce that vivid yellow colour, contain the
highest concentration of curcumin.
More Fantastic Properties
Turmeric has been the subject of a sizable amount of research into its potential as an
anti-cancer agent as well as its tumor suppressing properties; anti-inflammatory properties and antioxidant capacity.
And there's more! Additional health benefits are observed through its pain suppressing ability. Most of the studies to date have been on animals however Chinese and Ayurvedic medicine has recorded the medicinal health benefits of turmeric in humans over a long period of time.

Studies suggest the most recognized health benefits of turmeric to be:

Treating digestive disorders


As an anti-inflammatory agent (e.g. treatment of osteoarthritis)


Treatment of arteriosclerosis - may cause a reduction in bad cholesterol that can lead to blockage of the arteries.


Preliminary studies suggest a potential treatment for certain cancers - breast, colon, prostate and skin (only low-quality studies in humans have been conducted)


Reducing activity of roundworms and intestinal worms


Protection from liver disease


Preventing bacterial infection in wounds


Healing wounds


Eye disorder - possible (natural) treatment for uveitis
Turmeric
antioxidant capacity
was examined as part of a
German research
study during 2003 (Screening pharmaceutical preparations containing extracts of turmeric rhizome, artichoke leaf, devil's claw root and garlic or salmon oil for antioxidant capacity).
This study found:

"All fractions of the turmeric extract preparation exhibited pronounced antioxidant activity, which was assigned to the presence of curcumin and other polyphenols" (J Pharm Pharmacol. 2003 Jul; 55(7):981-6.)

To access the abstract of this study please click here


---
The Numerous Benefits Of Turmeric Provide Powerful Natural Remedies As Options To DANGEROUS Pharmaceutical Drugs!
---

In India, researchers are focusing on the positive results of treating diabetic patients with curcumin to prevent diabetic health complications. Turmeric is also cited in Spanish research for its ability to decrease the impact of high-fat diets and to help liver function in breaking down fatty tissue.


Precautions And Side Effects
As with any herbal extract it is important to take this herb according to label directions in order to derive the strongest (but safest) benefits of turmeric. Few side effects have been reported in individuals taking turmeric at recommended dosages.

If you are allergic to spices including turmeric or yellow food colourings you should avoid turmeric. This applies to any allergies you may have to any plants of the ginger family.

With large doses or long term use turmeric may increase stomach acid levels and possibly lead to heartburn, ulcers, stomach irritation or gallstones. Mild side effects can include skin rash or dizziness.

Theoretically, turmeric may increase the risk of bleeding when used with anticoagulants (blood thinners) or antiplatelet drugs - be sure to mention any herbs you take to your doctor as he may require you to stop taking them prior to surgery.

If you have been diagnosed with gallstones, obstructions of the bile ducts, stomach or intestinal ulcers, high levels of stomach acid, immune system diseases or liver conditions you should first talk to you physician before using this herb.

The benefits and side effects of turmeric are unlikely to be known by many doctors so it's IMPORTANT to find one who is familiar with herbal treatments or is prepared to research the issue for you!
DO NOT take turmeric health supplements if you are pregnant or breast-feeding. Turmeric may stimulate contractions of the uterus and may cause irregular fluctuations in menstrual periods.

Turmeric benefits can be offset by its potential to react with some prescription drugs - so if you are taking any consult your doctor before taking turmeric in any supplement form.

When used in isolation, turmeric will not produce the same results for everybody!

If you wish to take turmeric for preventative health-care reasons it should be taken in combination with other well-known medicinal herbs (and piperine), as an ingredient in a science-based, multi-nutrient vitamin/health supplement. So, let's look at some key criteria when shopping for, or comparing, premium grade health supplements.


Here's the Supplement That Gets My Vote!
It's The One My Family And I Use!
'Total Balance' from Xtend-Life is a health supplement which I believe has set a new standard in the supplement industry.


Total Balance is NOT a multi vitamin/mineral supplement!


Comparing a multi vitamin/mineral supplement formula with the Total Balance formula is like comparing a yacht with an ocean liner!


It's a highly sophisticated, science-based multi-nutrient health Supplement!


The bio-scientist who created Total Balance (Prof. Dr. A Munem Daoud PhD., MSc., ND,)(now deceased) was one of the world's most renowned scientists with both a pharmaceutical and natural substance background. As just one notable example, NASA had him creating natural brain formulas for their astronauts!


Wouldn't you want the peace of mind that comes from knowing your supplement has been created by one of the world's most RENOWNED EXPERTS in supplement formulation?

Total Balance will provide you with the maximum health benefits of turmeric!

Total Balance Women's Premium contains 18 standardized extracts (including turmeric)

Total Balance Men's Premium contains 15 standardized extracts (including turmeric)

Of course Total Balance meets every one of the criteria listed above and much more. The different versions (regular and premium) contain:


An INCREDIBLE 79 - 99 bio-active ingredients


Which support every organ and system in your body, including both your skin and brain. If you would like to read further information about Total Balance you can use the following links to jump to the TB product pages on the Xtend-Life website.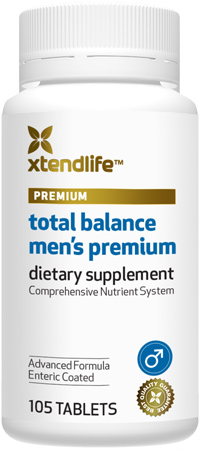 Total Balance Unisex (teens / post menopausal women)


Total Balance Children's Version



'PREMIUM VERSIONS'


Total Balance Unisex Premium



Total Balance is the only health supplement available today which contains the 'specialized ingredients' needed to defy:

ALL FIVE OF THE PRIMARY CAUSES OF AGING:
Free Radicals


Glycation


Methylation


Inflammation


DNA Degeneration
Through my extensive experience in reviewing supplements, I know there isn't currently another vitamin / health supplement in the market which targets and addresses all five areas of the aging process!
The Total Balance formula is cutting edge. It contains key ingredients from all nutrient categories:

Vitamins


Minerals


Trace Elements


Enzymes


Antioxidants


Amino Acids


Anti-Glycation Agents


Neuronutrients


Flavanoids


Carotenoids


Methylation Agents


Adaptogens


Calorie Restriction Mimetics


Herbal Extracts


Co-factors
This is the health supplement that my family and I use. I began with Total Balance in 2000.

We have all had FANTASTIC health results. Strengthened immunity is the most noticeable benefit for me while for mum it was a normalization of her cholesterol level and reduced blood pressure. Dad achieved a significant improvement in his arthritis (in his hands).

If you are interested in learning more about Total Balance this link will take you to my in-depth review: Total Balance Review




Benefits of Turmeric
Summing Up!
My last word on the health benefits of turmeric is this. It is a valuable medicinal herb which offers a wide range of potent medicinal properties.
High-quality human studies are therefore needed to conclusively confirm turmeric's effectiveness especially for major conditions like Cancer, AIDS, Heart Disease and so on.

Turmeric is a unique herb which should always be included as a standardized herbal extract in science-based, multi-ingredient health supplements aimed at enhanced full body protection and overall wellness.


Benefits Turmeric
Nutritional Supplement Truths!
Tons of Tips for Terrific Health

Healthy         Happy         Energized         Disease Free